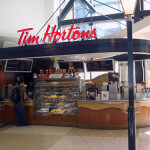 In an historic union of public and private sector interests, Toronto Mayor Rob Ford has inked a deal to have the Tim Hortons coffee empire take over management of the Toronto Public Library system.
"It's a natural fit," said Ford, who credited his brother Doug with the inspiration for the scheme. "I mean, the only difference between a library and a Tim Hortons is the coffee. You've basically got a lot of lowlifes sitting around effing the dog all day."
"Mind you, the coffee might actually make libraries worth the trip," added Doug, who will be quitting his position as a city councillor to take up a senior management position with Tim Hortons. "From where I'm sitting, Roll Up The Rim has done a lot more for literacy than any commie-pinko novelist ever has."
Tim Hortons president Paul House says he has big plans for Toronto's libraries, including a massive sell-off of old inventory to make room for retail space.
"We just want to even the balance a bit," said House. "At the end of the day, your average Joe isn't going to miss Plato or Joyce or any of those guys.  But don't take away his double-double!"
Tim Hortons founder Tim Horton could not be reached for comment.







What did you learn in school today? Sharing.