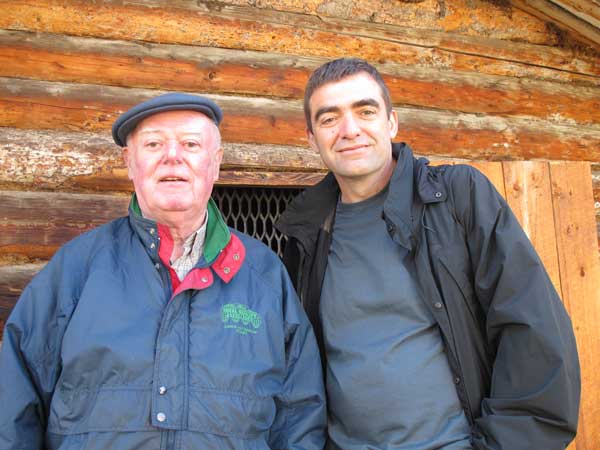 Alistair MacLeod and Nino Ricci read from their work at 2 PM on Sunday, January 30th, 2011 at Conron Hall, University College at the University of Western Ontario.
Sense of Place: Alistair Macleod and Nino Ricci
Sunday, January 30th 2011 at 2:00 P.M.
Conron Hall, University College
The University of Western Ontario
The McIntosh Gallery invites you to a reading by Alistair Macleod and Nino Ricci in memory of Dr. Suzanne Kaufmann.
Canadian author Alistair MacLeod was the 2001 winner of the prestigious IMPAC Dublin Literary Award for his novel No Great Mischief (1999). He has also published The Lost Salt Gift of Blood (1976), As Birds Bring Forth the Sun (1986) and Island: The Collected Stories (2000). In 2008 he became an Officer of the Order of Canada.
Nino Ricci won the Governor General's Award for Fiction twice: in 1990 for Lives of the Saints (also a Books in Canada First Novel Award winner), and in 2008 for The Origin of Species, which also appeared on the long list for the Giller Prize. In 1997, Ricci's novel Where She Has Gone was short-listed for the Giller Prize.
MacLeod and Ricci were guest writers for the publication Sense of Place: A Cross-Border Print Exhibition, organized by Windsor Printmaker's Forum. The exhibition is on view at the McIntosh Gallery from January 6th to February 19th 2011.
A great friend of the McIntosh Gallery, Dr. Suzanne Kaufmann (1920-2010) graduated in medicine from the University of Cape Town, where she met and married Dr. John Kaufmann. They moved to Johannesburg in 1955 where she worked in health clinics in the black townships of Soweto and Alexandria. In 1972, the family moved to London, Ontario, where she completed a B.A. Honours degree in Visual Art and French at Western. This event is held of honour Suzanne Kaufmann, to celebrate her passion for the arts, and to acknowledge the tremendous contribution she and John have made to the McIntosh Gallery over the years.
McIntosh Members: Join us at the Gallery after the reading for a private reception to meet Alistair and Nino and to tour the Sense of Place exhibition with Patricia Coates, President of Windsor Printmaker's Forum. (Memberships will be available at the door.)
For more information, contact James Patten (519) 661-2111 ext. 84602, jpatten2@uwo.ca.
Photo: Patricia Coates







What did you learn in school today? Sharing.