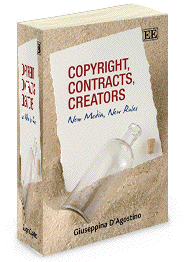 Giuseppina D'Agostino, the Founder and Director of IP Osgoode and an Associate Professor at Osgoode Hall Law School, recently appeared as a witness before the Parliamentary Committee Hearings on Bill C-32. D'Agostino is the author of Copyright, Contracts, Creators: New Media, New Rules, which looks at the precarious position of freelance journalists under current copyright regimes, and has been a strong voice for greater recognition of the rights of creators in the drafting of copyright legislation.
D'Agostino's opening comments to the committee focused on the dangerously ambiguous nature of the new "education" exemption under the bill's fair dealing provision, and on the potentially negative impact of this provision and others on creators. You can read her opening comments in full at IP Osgoode or watch the video at the Parliamentary Committee site (go to Meeting 5).







What did you learn in school today? Sharing.