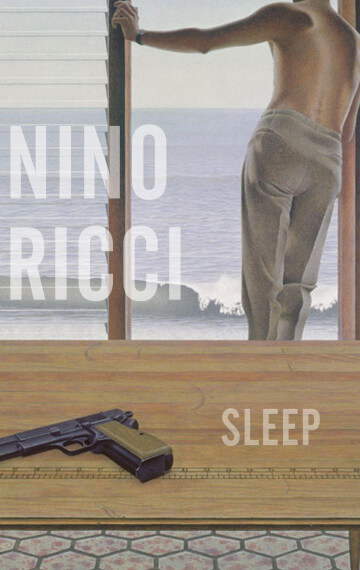 National Bestseller
Chapters.Indigo.ca
Amazon.ca
The Company Store
His mind keeps circling back to the instant when the crash felt inevitable, trying to sort out what saved them, though already it is hard to say how much is real in what he remembers and how much is the illogic of whatever dream he had slipped into. A deep brain disorder. That was how Becker put it, his sleep doctor, a fleshy Afrikaner with the hectoring twang of an apartheid politician and the parboiled look of a village butcher. A breakdown in the border that separated waking from sleep. As if sleep were some rebel force that David had let overrun him, leaving him condemned now to live in this place of constant incursion, where nothing was safe, nothing was certain.    ~  from Nino Ricci's Sleep
⦿ Winner of the 2016 Canadian Authors Award for Fiction ⦿
⦿ A Toronto Star Top 5 Book ⦿
⦿ A Globe and Mail Best Book ⦿
⦿ A National Post Best Book ⦿
⦿ A National Bestseller ⦿
"Ricci's darkest and most thematically daring work to date. . . . A frightening and essential addition to the oeuvre of one of this country's best and most important writers." – Quill & Quire
"A page-turner bound to please the award-winning writer's wide audience. . . . Sleep may be Ricci's best book to date." – London Free Press
"A dark but gripping read that does not let up." – CBC News
"One of Ricci's most deeply felt novels . . . and one of his riskiest." – National Post
"If endemic narcissism is one of the central pathologies of contemporary culture, then Ricci has crafted with Sleep one of its holy texts." – Toronto Star
From multi-award winning author Nino Ricci comes a novel of harrowing emotional power and suspense, the story of one man's descent into sleeplessness.
David Pace is a man who seems to have it all – a successful career as an almost-famous academic, a wife blessed with both beauty and brains, a young son and a lovely home. It is only when he comes down with a rare sleep disorder that the careful lies he has stitched together to form his perfect life begin to unravel. As sleep both haunts him and eludes him he descends into a twilight world that leaves his family in tatters and his career on the brink. Then he finds himself with a loaded gun in his hands, and all of a sudden he feels tantalizingly, gloriously awake.
Fuelled by a steady mix of pharmaceuticals, David's desperate quest to get free of the fog his disorder has plunged him into pushes him towards the very extremes of human behaviour. As he takes ever greater risks and makes ever more destructive choices his sense of what is real and who he is and what he is capable of begins to slip terrifyingly out of reach.
One of this fall's most anticipated books, Sleep blazed onto bestseller lists after its first week of sales. A timeline of Sleep's reception:
☛The Globe and Mail lists Sleep among "The 20 books you'll be reading and talking about for the rest of the year," alongside books by Camilla Gibb, John Irving, Salman Rushdie, Harper Lee and Gloria Steinem.
☛Quill & Quire's fall preview profiles "Nino Ricci and The Power of Sleep"
☛The Globe and Mail an exclusive excerpt from Sleep.
☛Quill & Quire, in a starred review, calls Sleep "a frightening and essential addition to the oeuvre of one of this country's best and most important writers."
☛Phil Marchand, writing in the National Post, calls Sleep "one of Ricci's most heartfelt novels, and one of his riskiest."
☛Emily Donaldson reviews Sleep in the Globe and Mail, calling it Ricci's "Bad Lieutenant moment" and hoping readers are willing to follow him "to the festeringly grim but undeniably compelling place he has travelled to."
☛The Toronto Star profiles 5 Good Reads from Word on the Street.
☛Sleep heads Chatelaine's list of "Buzzy Fall Books"
☛Toronto Star critic Robert Collison finds "much to commend in this book, including long bouts of wonderful writing," describing its protagonist as "one of the most thoroughly disagreeable characters I've encountered in recent fiction."
☛Sleep ends its first week of sales at No. 6 on the Hardcover Bestseller List and No. 2 on the Canadian Bestseller List.
☛Marc Montgomery interviews Ricci for Radio Canada International.
☛Nino tackles The Magic 8 at CBCBooks.
☛Nino talks about Sleep with the Calgary Herald's Erik Volmers.
☛Susan Schwartz profiles Ricci in the Montreal Gazette.
☛The London Free Press calls Sleep "a page-turner bound to please the award-winning writer's wide audience."
☛The Vancouver Sun asks Ricci what is keeping him up at night.
☛Nino Ricci, Marina Endicott, Deanna Young and Anne Enright headline author festival in Parry Sound.
☛The Winnipeg Free Press profiles Ricci in a feature Q&A.
☛Joanne Kelly describes Sleep as a "dark but gripping read" on CBC Manitoba.
☛Massey Hall's "Torn from the Pages: Nino Ricci" debuts in Toronto and reprises at Picton's Books and Company
☛Sleep makes the Toronto Star's Top 5 for 2015
Cover image: Pacific by Alex Colville. © A. C. Fine Art Inc.







What did you learn in school today? Sharing.