WRITERS ARE WARMING TO STEPHEN HARPER AS THE EVIDENCE GROWS HE MAY BE ONE OF THEM
Long derided as an enemy of the book, Prime Minister Stephen Harper is now poised to publish one.
Bucking a tradition established by fellow neoconservative Mike Harris, who named the picture book Mr. Silly as his favourite work of literature, the Prime Minister's book will purportedly contain actual text.
News of the impending publication has led to a softening of opinion toward Harper in the country's writing community.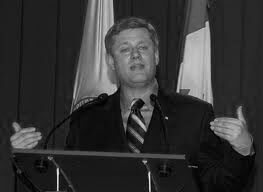 Bucking a neoconservative tradition, the Prime Minister's book will purportedly contain actual text.
"Finally the Prime Minister's copyright policy is starting to make sense," said a spokesperson for the Writers' Union, referring to legislation currently before Parliament that critics complain will claw back writers' rights and threaten the livelihoods of both writers and publishers. "We all thought he had a thing against literature, but it turns out he was just trying to clear some space for himself by killing off the competition. You have to admit it's a pretty clever strategy."
Two-time Governor General's Award winner Nino Ricci, recently appointed to the Order of Canada, has had a similar change of heart.
"When I was up in Ottawa for the GG awards in 2008, people were saying he prorogued Parliament just so he wouldn't have to congratulate the winners. So I wasn't surprised when he didn't show up for the Order of Canada shindig last fall."
News of Harper's book, however, got Ricci thinking. He had noted that among his fellow Order of Canada inductees were a number of prominent business leaders, including the CEO of a tar sands corporation.
"I mean, the arts types were in a minority, so logically, Harper should have been there. Then when I heard about his book I got to wondering if maybe it was just crowds he didn't like, or award ceremonies."
Industry insiders say an aversion to crowds and award ceremonies should stand Harper in good stead for the book circuit, where awards typically go only to friends of the jurors and where crowds traditionally fall well below those of even a typical Senate sitting or Liberal fundraiser.
Sources inside the PMO say that promotional efforts for Harper's book will include an initiative they are calling "One Country, One Book," in which every man, woman and child in the country will be encouraged to buy and read what is officially being referred to as "The Harper Book." The project is envisioned as a multi-year one.
"After all, it took the Prime Minister eight years to write the thing," said a spokeperson. "We're anticipating it might take that long for people to actually read it."
Harper himself has stated unequivocally that he doesn't expect to make any money from the book, which will put him squarely in the ranks of many of the country's finest writers. For the time being he is able to get by on the salary he receives as prime minister, though he may eventually be reduced to subsidizing his writing with Canada Council grants and his government pension. Pensions for former parliamentarians run from $30,000 to $100,000 annually, while Canada Council grants provide successful applicants with as much as $24,000 to get them through the several years it may take to complete a book.
"Incarceration opens up a whole new avenue of funding for artists."
News of the Prime Minister's book comes just as he has been reaping dividends from the arts community on another front, his omnibus crime bill. A recent study has shown that artists are one of the groups most likely to see increased jail time under the bill, thanks to the volatile combination of their general tendency toward anti-authoritarian behaviour and their increased economic vulnerability under other Harper initiatives.
"Incarceration opens up a whole new avenue of funding for artists," opined one arts pundit. "Free board, free lodging, and all the time in the world to create."