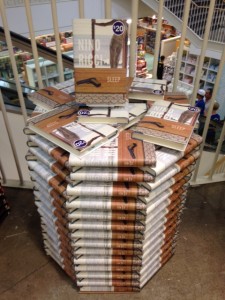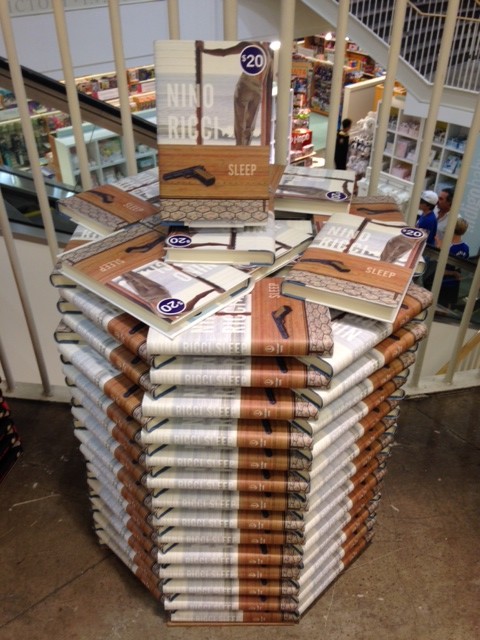 After a months-long book tour that took its author across the country, Sleep continues to captivate readers and stir debate with its unrelenting portrait of a character in free fall, unable to escape the grip of his own darker impulses. Reviewers at the Toronto Star put the novel in 2015's Top 5 for Fiction, along with such international bestsellers as The Girl on the Train by Paula Hawkins and Elena Ferrante's Story of the Lost Child.
Sleep hit the ground running when it was launched in the fall of 2015, already backed by a starred review from Quill & Quire and a rare rave from Phil Marchand in the National Post, who called it "one of the Ricci's most deeply felt novels, and one of his riskiest."
Emily Donaldson, writing in the Globe and Mail, described Sleep as "Ricci's Bad Lieutenant moment," though with Sleep's David Pace raising the ante on Harvey Keitel's bad lieutenant. "It's a novel likely to spur another insipid debate about whether characters need to be 'likeable,'" she writes, "which David is not. But let's hope that it doesn't, and that readers are willing to follow Ricci to the festeringly grim but undeniably compelling place he has travelled to."
Robert Collison took up that very debate in his Toronto Star review, finding "much to commend in this book, including long bouts of wonderful writing" but describing Pace as "one of the most thoroughly disagreeable characters I've encountered in recent fiction." Spoiler alert: Collison gives away a few crucial plot points, bemoaning, among Pace's other sins, his "systemic plagiarism," his "horrendous parenting skills" and his "shockingly disturbing sadomasochistic affair" with a friend's wife.
Buzz had been building over Sleep since the summer, when the Globe and Mail chose it as one of the 20 books to watch for in the fall season, along with heavy-hitters like Harper Lee's Go Set a Watchman and Gloria Steinem's My Life on the Road. In August Sleep was one of four books excerpted by the Globe as among the fall's most anticipated. A feature profile of Ricci in the Quill & Quire was followed by their starred pre-publication review, which set the tone for the book's reception.
The book's launch was marked by wide media coverage, including profiles in the Globe and Mail and Quill & Quire and appearances on Canada AM and Global's Morning Show. After its first week in bookstores it came in at #2 on the Globe and Mail's Canadian Fiction Bestseller List and #6 on the overall Hardcover Fiction Bestseller List, ahead of Harper Lee and Danielle Steele. Ricci's touring has taken him across the country, with stops in Eden Mills, Inuvik, Toronto, Windsor, Montreal, Calgary, Whistler, Victoria, Vancouver, Parry Sound, Markham, Winnipeg, Ottawa, Waterloo, Grimsby, Port Colborne, and Hamilton and that included "Torn from the Pages" events in Toronto and Prince Edward County.
A timeline of Sleep's reception:
☛The Globe and Mail lists Sleep among "The 20 books you'll be reading and talking about for the rest of the year," alongside books by Camilla Gibb, John Irving, Salman Rushdie, Harper Lee and Gloria Steinem.
☛Quill & Quire's fall preview profiles "Nino Ricci and The Power of Sleep"
☛The Globe and Mail an exclusive excerpt from Sleep.
☛Quill & Quire, in a starred review, calls Sleep "a frightening and essential addition to the oeuvre of one of this country's best and most important writers."
☛Phil Marchand, writing in the National Post, calls Sleep "one of Ricci's most heartfelt novels, and one of his riskiest."
☛Emily Donaldson reviews Sleep in the Globe and Mail, calling it Ricci's "Bad Lieutenant moment" and hoping readers are willing to follow him "to the festeringly grim but undeniably compelling place he has travelled to."
☛The Toronto Star profiles 5 Good Reads from Word on the Street.
☛Sleep heads Chatelaine's list of "Buzzy Fall Books"
☛Toronto Star critic Robert Collison finds "much to commend in this book, including long bouts of wonderful writing," describing its protagonist as "one of the most thoroughly disagreeable characters I've encountered in recent fiction."
☛Sleep ends its first week of sales at No. 6 on the Hardcover Bestseller List and No. 2 on the Canadian Bestseller List.
☛Marc Montgomery interviews Ricci for Radio Canada International.
☛Nino tackles The Magic 8 at CBCBooks.
☛Nino talks about Sleep with the Calgary Herald's Erik Volmers.
☛Susan Schwartz profiles Ricci in the Montreal Gazette.
☛The London Free Press calls Sleep "a page-turner bound to please the award-winning writer's wide audience."
☛The Vancouver Sun asks Ricci what is keeping him up at night.
☛Nino Ricci, Marina Endicott, Deanna Young and Anne Enright headline author festival in Parry Sound.
☛The Winnipeg Free Press profiles Ricci in a feature Q&A.
☛Joanne Kelly describes Sleep as a "dark but gripping read" on CBC Manitoba.
☛"Torn from the Pages: Nino Ricci" debuts in Toronto and reprises at Picton's Books and Company
☛Sleep makes the Toronto Star's Top 5 for 2015
☛Sleep makes the Globe and Mail's Top 100 for 2015
☛Sleep wins the 2016 Canadian Authors Award for Fiction